The U.S. Department of the Interior said Friday it is working to restore populations of American bison in tribal areas by harnessing Native American knowledge.
Home Secretary Deb Haaland, who is the first Native American to serve as US cabinet secretary, said the restoration effort is being funded with more than $25 million from the Inflation Reduction Act.
"This holistic effort will ensure that this powerful sacred animal is reconnected with its natural habitat and the original stewards who know best how to care for it," Haaland said when announcing her appointment Friday during a World Animal Day event of the National Geographic Society in Washington, DC
"When we think of indigenous communities, we must acknowledge that they have spent generations spanning many centuries observing the seasons, tracking wildlife migration patterns, and fully understanding our role in the delicate balance of this earth," she added.
CLIMATE CRISIS COULD HAVE BEEN AVOIDED IF COLONISTS HAD ADOPTED AN INDIGENOUS LIFESTYLE, TOP BIDEN OFFICIAL SAYS
American bison, also known as buffalo, recovered from near extinction due to commercial hunting in the 19th century. But they remain gone from most of the grasslands they once inhabited, and many tribes have struggled to reestablish their deep historical ties to the animals.
Haaland said the overall bison recovery over the past 130 years is a "conservation success" but the animals are "functionally extinct."
Across the US, from New York to Oklahoma to Alaska, 82 tribes now have more than 20,000 bison in 65 herds. In recent years the numbers have grown, along with the desire of Native Americans to take back responsibility for the animals.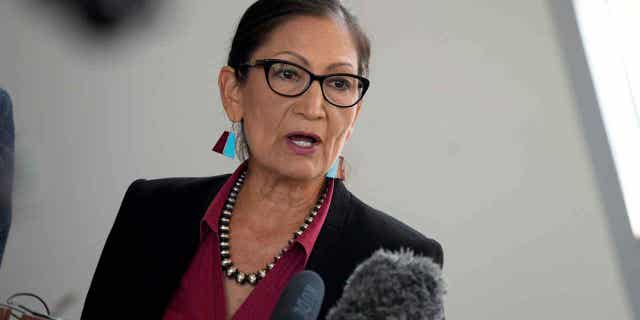 Many of the tribes' bison came from U.S. authorities, which over the past two decades have transferred thousands of the animals into thin government-controlled herds to keep them from outgrowing the country. The transfers were often done in conjunction with the South Dakota-based InterTribal Buffalo Council. The group's director, Troy Heinert, said Haaland's appointment was a recognition of the work the tribes have already done.
Haaland's order puts the interests of Native Americans at the heart of the Interior Department's bison program. It also adds a yet-to-be-named tribal leader to a group exploring the establishment of new herds on both tribal and federal lands.
CLICK HERE TO GET THE FOX NEWS APP
About half of the $25 million announced Friday will go to the National Park Service. The remainder is shared between the Bureau of Indian Affairs, the Bureau of Land Management, and the Fish and Wildlife Service.
The Associated Press contributed to this report.