Former President Donald Trump continues to lead the conservative wing of the Republican Party and attends the four-day annual Conservative Political Action Conference (CPAC). Concluding the conference, Trump presented himself as the ultimate leader to take on Democrats and "establishment" Republicans, calling the upcoming 2024 presidential election the "final battle."
"In 2016 I declared that I am your voice. Today I add: I am your warrior. I am your justice, and for those wronged and those who have been betrayed, I am your retribution," Trump said while amplifying his voice throughout the third presidential campaign.
"This is the last fight, they know it. I know it, you know it, and everyone knows it, that's it. Either they win or we win. And if they win, we won't have a country anymore."
During his speech, Trump proclaimed himself as the leader who would "save" America while working to contrast himself with "establishment" Republicans.
"People are fed up with RINOs and globalists; they want to see America first. That's what they want. It's not too complicated," Trump said.
"The Republican Party was ruled by freaks, neocons, open-border zealots, and blockheads. We will never return to the party of Paul Ryan, Karl Rove and Jeb Bush."
Trump then attacked Republicans who want to raise the Social Security retirement age.
"We're not going back to people who want to destroy our great Social Security system. Even some in our own party, I wonder who that might be. They want to raise the minimum age for Social Security to 70, 75, even 80 in some cases, and then find a way to lower Medicare to levels that are no longer recognizable," he said.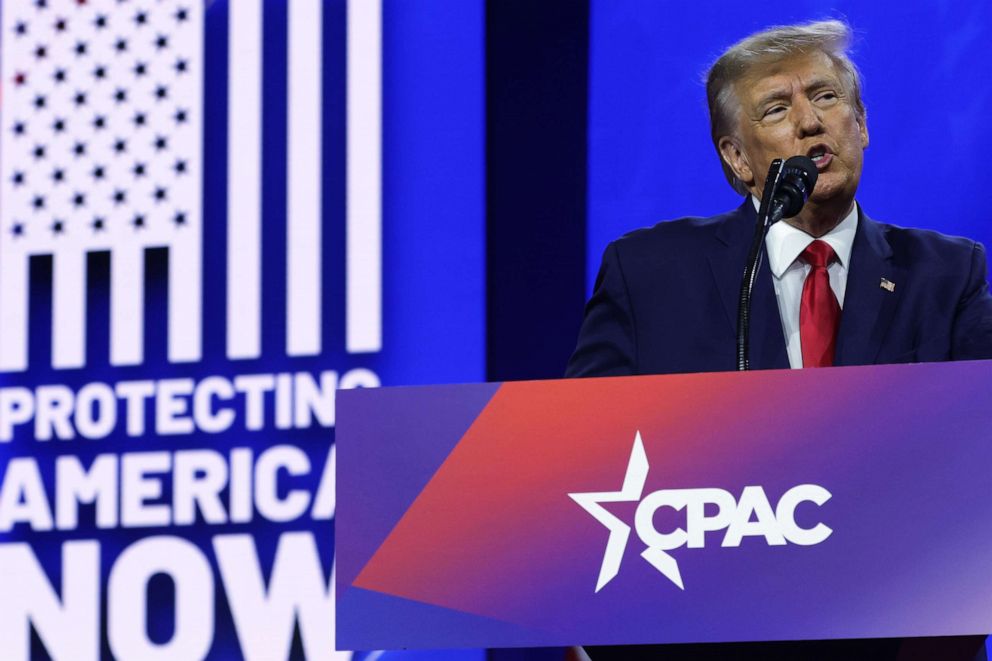 Previewing his agenda if elected president, Trump focused on his usual conservative issues, including: securing the border, deploying the National Guard "until law and order is restored" and fighting for a constitutional amendment to impose term limits on members of the congress.
He also spoke about his newly announced competition to build new "freedom cities."
"I'm going to challenge the governors of all 50 states, all 50 states, to join me in a grand beautification campaign. We will rename our schools and boulevards, not after communists but after great American patriots. We will get rid of bad and ugly buildings and return to the great classical style of western civilization," he said.
In a switch of position, however, Trump advocated absentee ballots, early voting and ballot collection, while highlighting Kari Lake's failed Arizona gubernatorial bid.
"I will move heaven and earth to finally secure our elections. All Republican governors should immediately go for paper ballots, vote one day, and have voter ID…they should go for paper ballots, vote same day," he said.
"Republicans must compete by any legitimate means to win. That means they must inundate the left with mail-in ballots, early votes and election-day votes. We have to change our thinking because some bad things happened."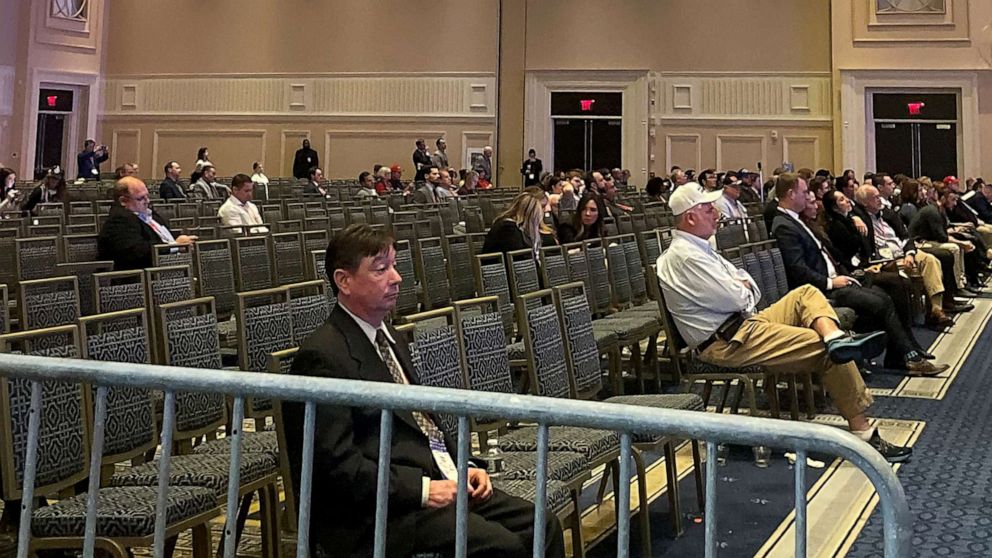 Trump downplayed the credibility of several investigations he's undergoing, but specifically focused on Fulton County's probe into his attempt to overturn the 2020 election after the foreman spoke to the media.
"Jury foreman, a rather bizarre young woman goes around giving media interviews and telling exactly what's going on, one of many grand juries. Our opponents are doing everything they can to hurt me politically because they're scared of me and scared of you, that's it."
Speaking to reporters ahead of his speech on Saturday, Trump said for the first time that he would "absolutely" remain in the presidential race even if he faces criminal charges.
"I wouldn't even think about leaving," Trump told reporters ahead of his speech. "Probably it will improve my numbers."
Encouraging his supporters to stay active in his movement, Trump said now is the time to "restore" America and make it "mighty again."
"Change will only happen when we fearlessly plow ahead and declare with one voice that the era of woke and armed government is over. This is our job, this is our mission, and this is the tipping point and the time for that decision, because as you "I've probably heard myself say before, we won't give in, we won't bend, we won't give up , we will not back down," he said.
Trump did not specifically mention his potential Republican challenges, including Florida Gov. Ron DeSantis and former Vice President Mike Pence; However, he quipped to reporters "the more the merrier" when asked about challengers entering the race.
"It's on him," he said when asked specifically about DeSantis. "He wouldn't have been elected without me, but that's on him … I welcome everyone."
Trump dominates DeSantis in straw polls
Not surprisingly, Trump won CPAC's annual straw poll overwhelmingly, receiving 62% of the vote — slightly down from the last CPAC in Texas, when he won 69% of the vote — but still very high.
DeSantis came in second with 20% of the vote. Perry Johnson, a businessman who announced his candidacy for the Republican nomination this week, received 5% of the vote, placing third. Haley polled at 3%.
Although the crowd overwhelmingly favored Trump, the former president failed to fill all the seats in the ballroom during his speech, as the back of the room was almost entirely empty.
Some participants predicted the results would be different if the CPAC crowd allowed for more diversity in the Republican Party after former South Carolina Gov. Nikki Haley, Trump's most prominent challenger, a day earlier by Trump supporters from the Hotel corridors had been teased .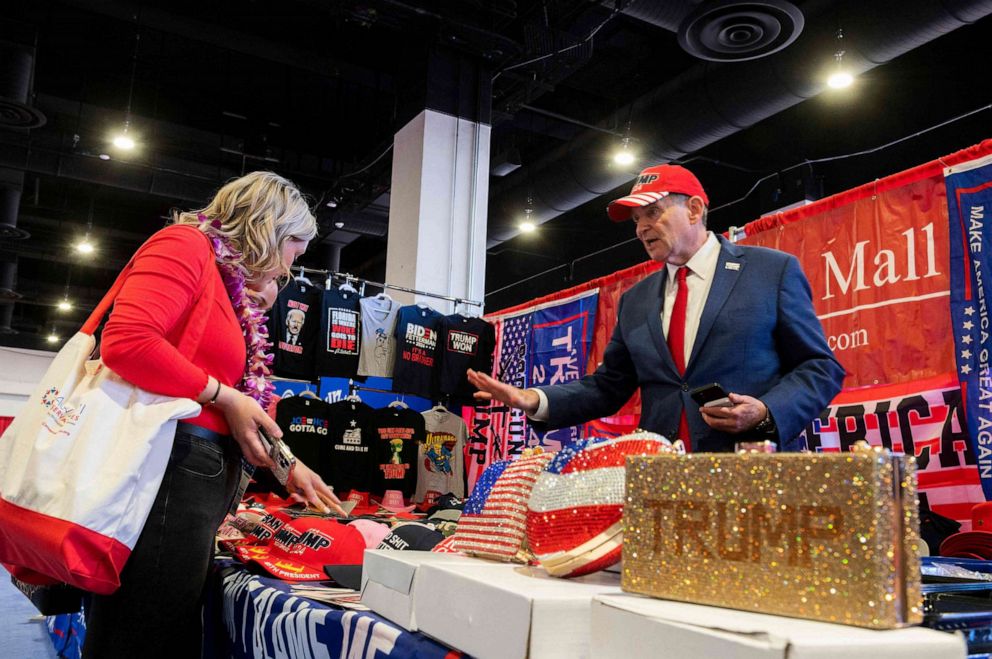 "It's very skewed right now, it's very Trump-centric here," said Orlando Clark, a graduate student at Penn State. "If we had these other candidates here, the straw poll results could definitely be different … but if only one side is represented, it kind of skews the results to the point where now they don't even represent more than half of the party." "
"Not everyone is prepared right now that Donald Trump is our candidate. I mean, I know for a fact that I'm not," he added. "If he wins then great but I'm still not determined. I don't think he's the best person to run for."
"There's a lot of Trump support here. I'm sure the Straw poll will reflect that, but I don't think that's a good thing because we need other options," said Hunter Steach, another Penn State student. "I think younger leaders like Ron DeSantis are a stark contrast to people like Trump, people like Biden," he later added.
The straw poll also asked participants about their top picks for vice president. Lake, who stuck to stolen polls during her CPAC appearances, took first place with 19.6% of the vote. DeSantis came in second with 14%.