Corned beef is a St. Patrick's Day staple.
When the Irish emigrated to the United States, corned beef was a cheap meat that they could easily enjoy — which, according to the Irish Central, was not the case in Ireland. It quickly became a popular meal among the Irish in America.
Irish-Americans and revelers enjoy corned beef and cabbage every year on St. Patrick's Day.
ST. PATRICK'S DAY: THE STORY BEHIND THE VACATION IN THE UNITED STATES
If you're making the meal yourself and want to know what to do with leftovers, here are some recipes for the day after to avoid wasting food.
Classic corned beef and cabbage
Homemade corned beef with dill cabbage
Corned beef sandwich
Salted ground beef
1. Classic Corned Beef and Cabbage
This recipe comes from Chef Alex Reitz, recipe developer for Beef. It's What's For Dinner" via Fox News Digital.
This easy to assemble corned beef and cabbage dish is a classic twist on traditional Irish cooking.
Ingredients:
1 corned beef brisket (2½ pounds)
5 cups water, divided
1 medium head of cabbage (about 2 pounds), cut into wedges
8 ounce Yukon Gold potatoes, cut into 8 wedges
8 ounces carrots, cut into 1 inch pieces
2 tablespoons butter, melted
½ teaspoon salt
½ teaspoon pepper
Instructions:
Preheat the oven to 350 F. Place the corned beef in a large stockpot or Dutch oven, fat side up, with 3 cups of water. Once the water is simmering, cover and cook in the oven at 350 F for about 2 ½ to 3 hours.
Place your brisket on a cutting board and reserve any excess liquid in the stock pot. Cover the meat with aluminum foil and let it rest for 15 to 20 minutes.
While waiting, add two cups of water to the soup pot with the liquid. Place the steamer basket in the soup pot and place the cabbage, potatoes and carrots in the basket. Once it boils, you need to cover it, reduce the heat and let the vegetables steam for 20 to 25 minutes.
If you like, remove the fat from the breasts, then slice them thinly. In a small bowl, mix butter, salt and pepper. Pour butter over the vegetables and serve.
SLOW-COOKER IRISH SODA BREAD IS THE EASIEST RECIPE FOR ST. PATRICK'S DAY
2. Homemade Corned Beef with Dill Cabbage
If you're looking for a twist on a classic recipe, Reitz also shared a recipe using fresh dill.
Ingredients:
1 corned beef brisket (2 ½ to 3 ½ pounds)
¼ cup honey
1 tablespoon Dijon-style mustard
For dill cabbage:
1 medium head of cabbage (about 2 pounds), cut into 8 wedges
3 tablespoons butter, softened
1 tablespoon Dijon-style mustard
1 ½ teaspoons chopped fresh dill
Instructions:
Heat oven to 350 F. Add corned beef brisket and 2 cups water to Dutch oven and bring to a simmer. Then cover and cook in the oven at 350°F for 2½ to 3½ hours or until fork tender.
With about 20 minutes left for the brisket, begin steaming the cabbage. Steam the cabbage for 15 to 20 minutes or until tender.
Remove the brisket from the water and trim off the fat. Place the meat on a rack in a grill pan so the beef is only about three to four inches from the heat. In a small bowl, combine honey and 1 tablespoon mustard. Spread half of this glaze onto the brisket and grill for three minutes. Then brush on the other half of the glaze and grill for another two minutes.
In a small bowl, combine butter, 1 tablespoon mustard, and dill. Spread this on the cabbage.
Carve the breast and serve with the cabbage.
ST. PATRICK'S DAY: MOST IRISH CITIES IN US AND THEIR BELOVED PUBS
3. Corned Beef Sandwich
Stacking thinly sliced ​​pieces of corned beef for a quick sandwich is a great way to use up leftover corned beef.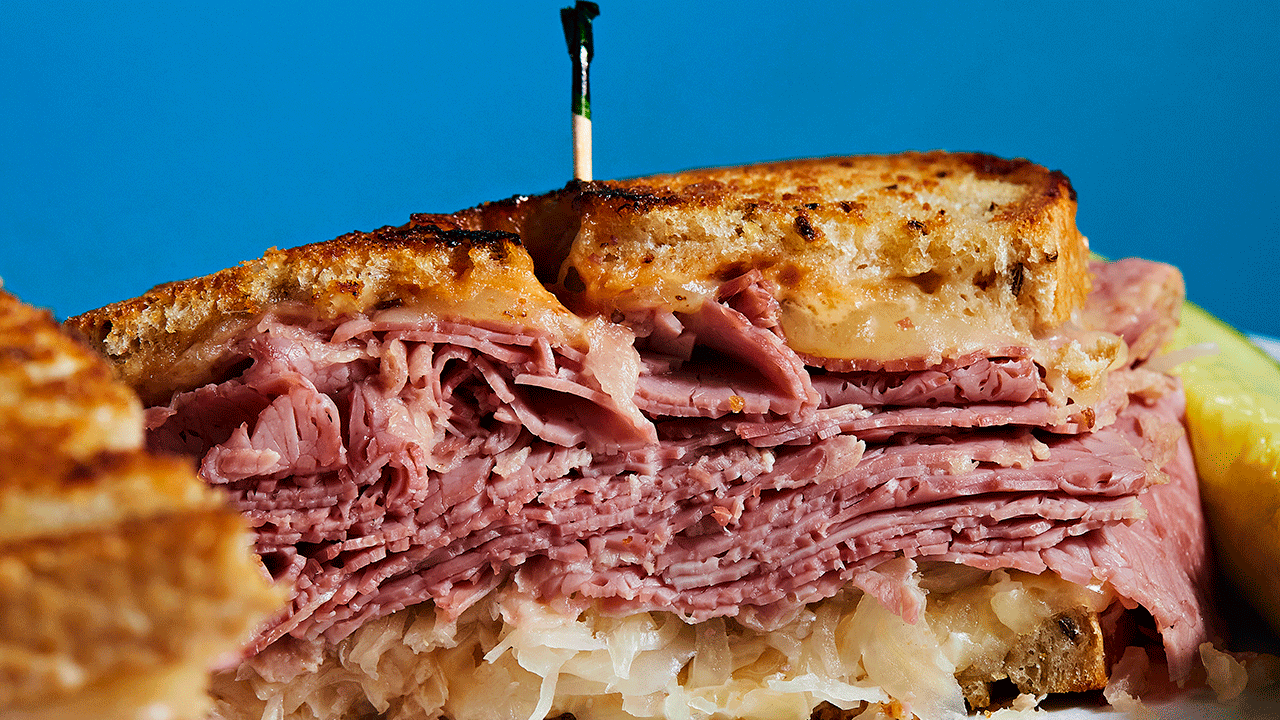 CLICK HERE TO SUBSCRIBE TO OUR LIFESTYLE NEWSLETTER
Ingredients:
Corned beef
Bread of your choice (maybe sourdough or rye)
Swiss cheese
Pickles or homemade pickles
Mustard
Instructions:
Toast your bread first. You can do this in a toaster oven or on the stovetop over medium-high heat with butter.
Remove your toasted bread and set aside. Add corned beef slices. Heat your beef until hot.
Add your Swiss cheese to the stacked meats in your skillet. To melt the cheese faster, add a spoonful of water to the pan and bring to a simmer with a lid.
Spread the mustard on the toast – either on one or both slices. Stack your meat and cheese and top with sliced ​​cucumber or pickles and enjoy a juicy, salty corned beef sandwich.
4. Corned beef hash
Treat yourself to the last of your corned beef with a corned beef hash. This will make for a tasty post-St. Patrick's Day breakfast.
This recipe comes from Culinary Hill Executive Chef Meggan Hill via Fox News Digital.
Ingredients:
3 tablespoons of butter
1 small onion, finely chopped
Salt and freshly ground pepper
2 pounds red potatoes, peeled and cut into ½-inch pieces
¾ cups of water
2 garlic cloves chopped
12 ounces corned beef cooked, shredded into bite-sized pieces
1 tablespoon hot sauce
Chopped fresh parsley, for garnish, optional
Fried eggs for serving, optional
CLICK HERE TO GET THE FOX NEWS APP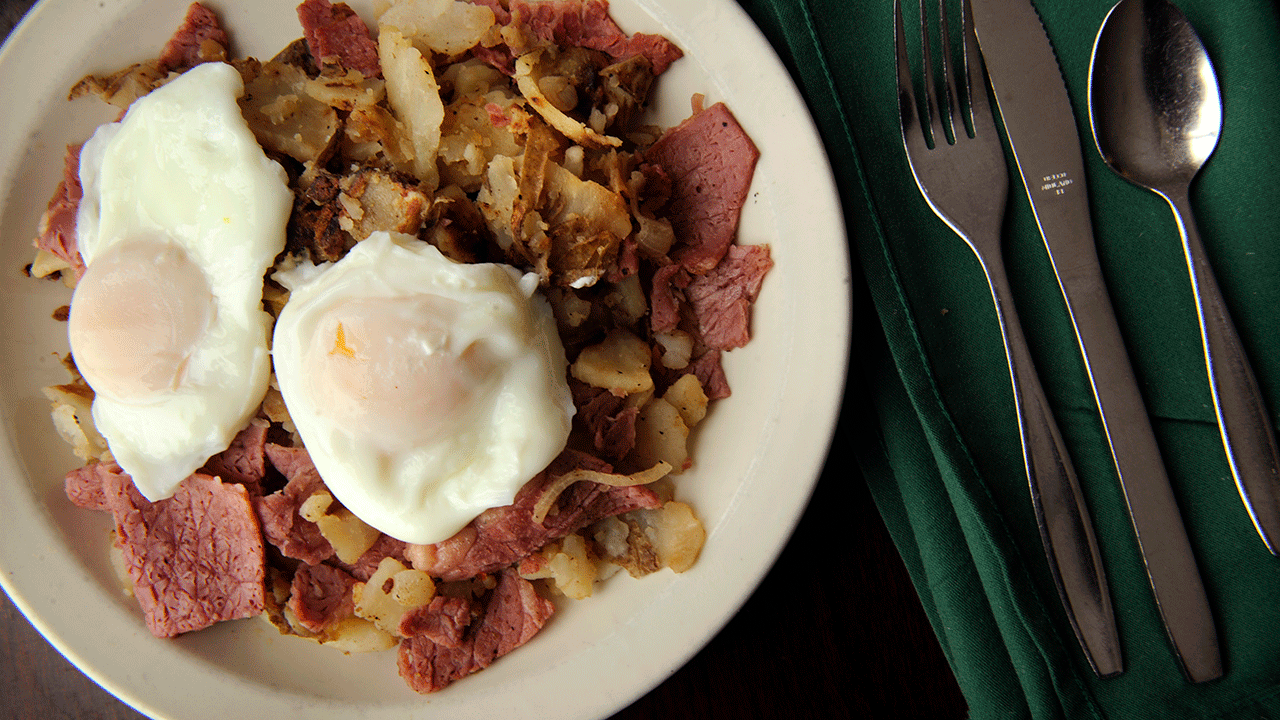 directions:
Melt butter in a large skillet over medium heat. Add the onion, ¾ teaspoon salt, and ½ teaspoon pepper to the pan. Cook for about three minutes.
Increase the heat to medium-high and add the potatoes, water, and garlic. Cover and cook for about six minutes. Remove the lid and stir until all the water is gone and the potatoes are fully cooked. This should be right around the six minute mark.
Remove pan from heat and mash 1/8 of the potatoes. Then stir the mashed potatoes into the remaining potatoes until combined.
Stir in the corned beef and hot sauce. Spread hash in an even layer in pan and return to high heat for three minutes.
Gently stir hash and cook until potato edges are crispy. This takes about three minutes.
Your hash is ready to serve! Serve this with eggs sunny side up, poached, basted, or fried.