ZEN50 solar electric yacht
ZEN50 is zero-emission sailing yacht which combines a giant fully automatic wing sail and solar roof, making it completely self-sufficient in energy. This full carbon boat was designed from the ground up by celebrated naval architect Julien Mélot catamaran is equipped with luxurious amenities such as an electric tender, dive compressor, satellite internet and a solar roof that doubles as a spacious upper deck to enjoy breathtaking sunrises and sunsets. ZEN Yacht company claims it is the world's first production catamaran equipped with an electric wing sail. The yacht's high-capacity battery powers a quiet electric propulsion motor, enabling her to reach 14 knots and maintain high speeds without compromising on safety and comfort.

all pictures by ZEN Yachts
Zero emissions meet high comfort and performance
ZEN yachtsThe electric catamaran is a technological breakthrough that takes the yachting industry a step further and shows the potential for sustainability in this area. Offered with or without a wing sail, ZEN50 is available in three different versions: Racer, Cruiser and Explorer, each to suit the use and owner profile. The revolutionary fully automatic wing sail developed by Ayro can be added as a range and speed extender. The two parts of the wing sail can be independently hoisted and lowered at the push of a button.
Weighing in at 16 tonnes and delivering 17,000W of maximum solar power, the ZEN50's ratio is over 1kW per tonne of water displaced, or over 1:1, which beats any other blue water CE Cat-A yacht in this size range. The ZEN50's sharp and slender hulls have been designed for maximum efficiency with minimum power consumption in a speed range of 6 to 10 knots. Her inverted bow cuts through the water and her curvature is reminiscent of graceful dolphin bodies. These hulls are built from the best composites available: carbon fiber and Corecell™ for ultimate performance.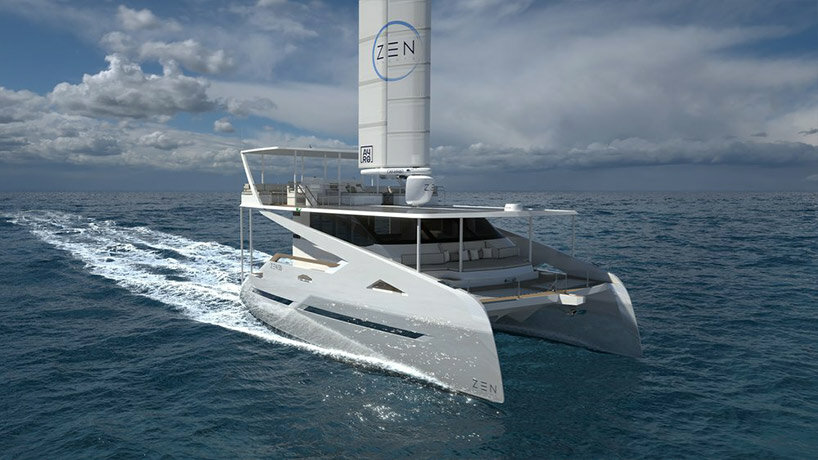 ZEN50 can sail at 4 knots and run on solar power only
No emissions, low costs
Zen50 offers a range of luxurious amenities. The scheme accommodates three dining areas for over ten people, a professional galley, a saloon and two wet kitchens, while accommodating up to 12 guests in en-suite cabins.
The first ZEN50 model, construction of which began in March 2022, will have no engine system and no fossil fuels on board. With a 160kWh battery bank, the ZEN50 power system has been designed to work for days in complete safety with minimal solar energy harvest and no wind, operating without polluting emissions. This means users can drive in remote areas without worrying about refueling. Zero emissions naturally mean low operating costs. ZEN Yachts aims to achieve a zero carbon footprint by 2030.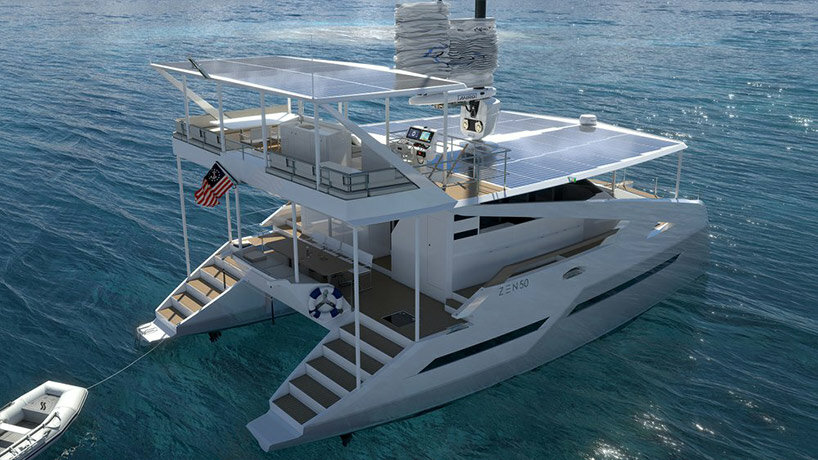 ZEN50 has a top speed of 14 knots
"Our main voltage system is either 48 or 88V depending on the drive, which makes it perfectly safe to work on. The redundancy of batteries and solar panels is 10!, the main electrical architecture is divided in two, so that the whole ship can function normally should something happen to one hull. There are 2 independent helm stations and the ZEN50 is packed with special safety features, non-submersible compartments and we can even offer an in-depth hands-on course on the use and management of safety equipment. shares the company.