Albert Kahn Art Museum by Kengo Kuma
On the outskirts of Paristhe new Albert Kahn Art museum has opened its doors to the public after the renovation work and the realization of a new building the renowned architect Kengo Kuma. A shell of irregularly arranged aluminum strips draws the attention of passers-by from afar and gives the rooms a play of light and shadow. The uneven aluminum roof that surmounts the structure reflects the nuances of the sky and invites visitors to discover the extensive Kahn collections in a unique architecture of 2300 m².
The final design exhibits a strong conceptual element that represents a reinterpretation of 'engawa', a traditional physical medium of Japanese architecture. The meaning of Engawa is "intermediate space" and describes a filter between inside and outside. Therefore, the design team sought to merge architecture and landscape, creating a seamless symbiosis between the exhibition space and the tame nature – an intention reinforced by lush gardens that pervade the building. Image ©︎ Think Utopia
an effortless connection between culture and nature
Located on the south side of the Bois de Boulogne, the museum was founded by Albert Kahn (1840-1940), a merchant who captured scenes from his travels around the world in 72,000 color photographs and 183,000 meters of film; these archives are displayed in the central part of the collection. Albert Kahn had a deep love of nature and dreamed of creating gardens from the five continents of the world to create a natural environment where different cultures could live together in harmony. Hence, the Japanese architect was looking for a design where architecture and nature work together. Working together, wood, bamboo and metal dominate the building, creating a poetic sculpture that seems to change character as visitors meander through its body.
"The city-side shell is mostly aluminum and the garden-side shell is mostly wood, and sometimes these two materials are mixed in a gradual way. This gives the building a biological skin that gently adapts and interacts with different environments," explains the team.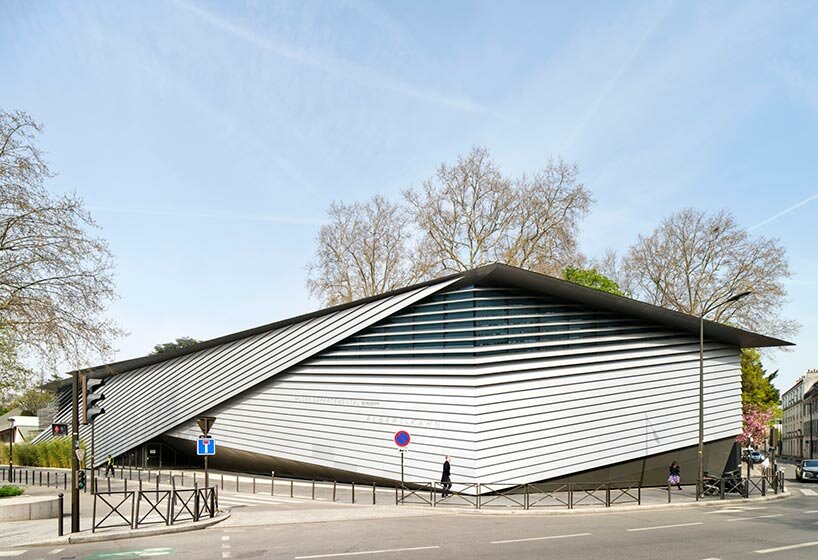 Image ©︎Michel Denance | Strips of aluminum unfold diagonally, forming a prominent façade
"The exhibition space was designed in an extended linear sequence of paths through this garden. A screen of aluminum and wood is inserted between the path and the outside environment while continuing to meander horizontally and vertically, controlling the relationship between the two." mentioned the architects.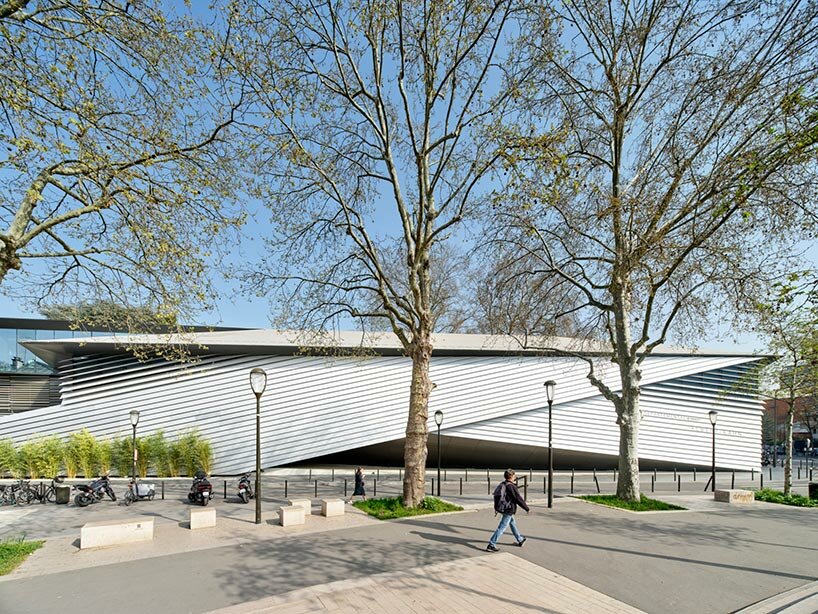 Image ©︎Michel Denance | create a connection between culture and nature