LOS ANGELES (AP) — Some residents stranded by a huge snowfall in Southern California's mountain communities could be stranded for another week, an official said Friday.
A blast of arctic air in late February produced a rare snowstorm east of Los Angeles in the San Bernardino Mountains, where thousands of people live at high elevations in forest communities or come here year-round for recreation.
Exceptional snowfall buried homes and businesses and overwhelmed the capabilities of snow removal equipment designed for common storms.
All highways leading into the mountains were closed last weekend and have since been opened intermittently to local residents and convoys of trucks loaded with food or other supplies.
San Bernardino County Sheriff Shannon Dicus' estimate was an improvement in the outlook for stranded residents, which previously ranged up to two weeks.
"We said we could push it back to two weeks, but because of the efforts of the state and the equipment that's coming in behind us, we're hoping to get that down to a week," he told a news conference.
The sheriff and other officials said progress has been made, but they described severe conditions that have forced firefighters, for example, to reach emergencies such as snow groomer fires.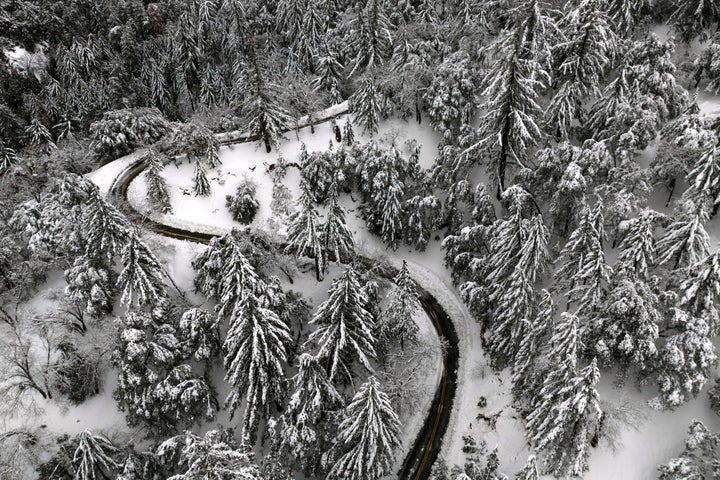 "The enormity of this event is difficult to grasp," said MP Tom Lackey. "You know, we're like, 'We're in Southern California,' but we still had a flood that's caused a really, really great deal of fear, frustration, and difficulty, especially among the victims and those who are actually trapped in their own homes ."
San Bernardino County is one of 13 counties where California Gov. Gavin Newsom has declared a state of emergency due to the effects of severe weather, including massive snowfalls that caused roofs to collapse due to excess weight.
In Mono City, a small community on the eastern edge of the Sierra Nevada mountains near Yosemite National Park, some residents have been snowed in without power for a week, the Mono County Sheriff's Office said on Facebook on Friday. In the northern part of the state, mountain communities struggling with the conditions have smaller populations and are more used to significant snowfall.
Residents and vacationers trapped in the San Bernardino chain have taken to social media to show their plight and wonder when plows are coming.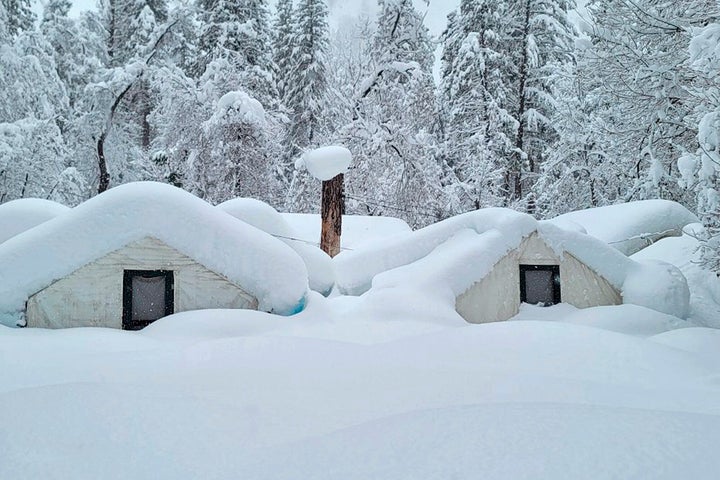 Shelah Riggs said the street where she lives in Crestline hasn't seen a snowplow in eight days, leaving people in about 80 homes along the street with nowhere to go. Usually a plow comes in every day or two when it's snowing, she said.
"We're covered by five or six feet (1.5 or 1.8 meters); Nobody can even leave their driveways," she said in a phone interview.
Riggs, who lives with her 14-year-old daughter, said everyone is working to keep snow and ice off their decks to prevent a collapse and to ensure gas vents on their homes remain clear.
She said the county's response has been "terrible" and "people are really angry."
Devine Horvath, also of Crestline, said it took her and her son 30 minutes to walk down the street to check on a neighbor – a hike that normally only takes a few minutes.
Horvath said she was lucky to make it to the local grocery store before its roof collapsed a few days earlier, but hasn't been able to leave her street since.
"I'm getting angrier by the day," she said.
The sheriff tried to reassure people that help was coming, even though people didn't see any plows.
"We'll dig you up and we're coming," said Dicus. "We are making tremendous progress. I saw this from the air yesterday. The streets are being cleared."
Officials said crews were dealing with such enormous amounts of snow that it required front-end loaders and dump trucks instead of regular plows to remove it.
California Department of Transportation official Jim Rogers said crews working 24-hour shifts removed more than 2.6 million cubic yards (1.9 million cubic meters) of snow from state roads.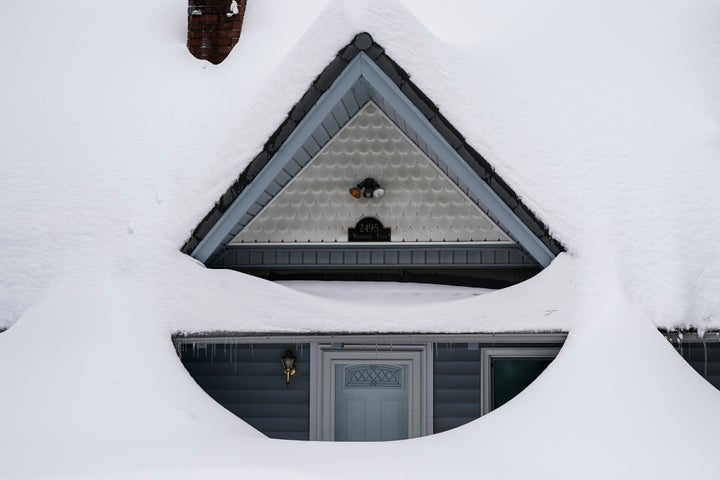 Officials described a number of difficulties in reopening smaller roads, including buried vehicles and downed power lines, hampering progress. Local residents were asked to somehow mark the locations of the cars.
A reopened road can only be as wide as a single vehicle with ice walls on each side.
"We go door to door, and we literally use shovels to clear driveways to make sure people have access to their cars," District Fire Chief Dan Munsey said. "Because the roads are plowed, you still have a 10-foot (3-meter) snow ledge to negotiate."
More snow groomers were brought in along with a crew from the California National Guard, who normally work with the California Wildfire & Forest Resilience Task Force on wildfires. The crew helps shovel snow.
While heavier snowfall was forecast for Northern California early Saturday, Southern California should remain storm-free save for possible light rain.
"The weather is looking great for the next seven days and that's great news," Munsey said.
About 80,000 people live part-time or full-time in the San Bernardino Mountains. The county hasn't estimated how many people are currently in the mountains, as many homes are vacation rentals or rentals.
Associated Press journalist Kathleen Ronayne contributed from Sacramento, California.