'casa em tróia': a chameleon-like volume overlooking the sea
Overlooking the deep blue waters of Grândola in Portugal, "Casa Em Tróia" seemingly emerges from the coastal landscape and forms out of the sand as it moves inland. This chameleon-like transition was conceived by BICA Architectswho was heavily inspired by the residence extensive natural context. As a matter of fact, 'the two main principles that defined the project were the importance of preserving the environment, based on ecological support and in particular the protection of the dunes and local plant species – and the need to ensure the privacy of residents,' writes the practice.

all images © Fernando Guerra / FG + SG
Symmetry meets sandy textures to create continuity
The BICA Arquitectos draw from these ideas team carefully formed a large dune and covered with native plant species that surround the house. This new landform enhances the natural characteristics of the context while favoring local sustainability, as it was created with sand excavated from nearby structures. Complementing this, the architects erected a long barrier of fir wood to preserve the new dune and define the perimeter of "Casa Em Tróia" while subtly concealing the different volumes of the house.
Inside the residence, along a central and long corridor, the private spaces are symmetrically arranged and interspersed with courtyards that have preserved existing plant species such as pine, eucalyptus and shrubs. At the end of the corridor, the social area of ​​the house takes shape, which privileges the relationship with the landscape through an exposed design in a part of the site where neighboring buildings are no longer visible.
This section is rounded off by a private pool, which reflects the refreshing gradations of color of the sea just a few meters away. Residents can access the pool via a ramp covered with sand-based mortar, creating continuity with the dunes. The leisure area extends to the roof terrace where the seascape remains visible.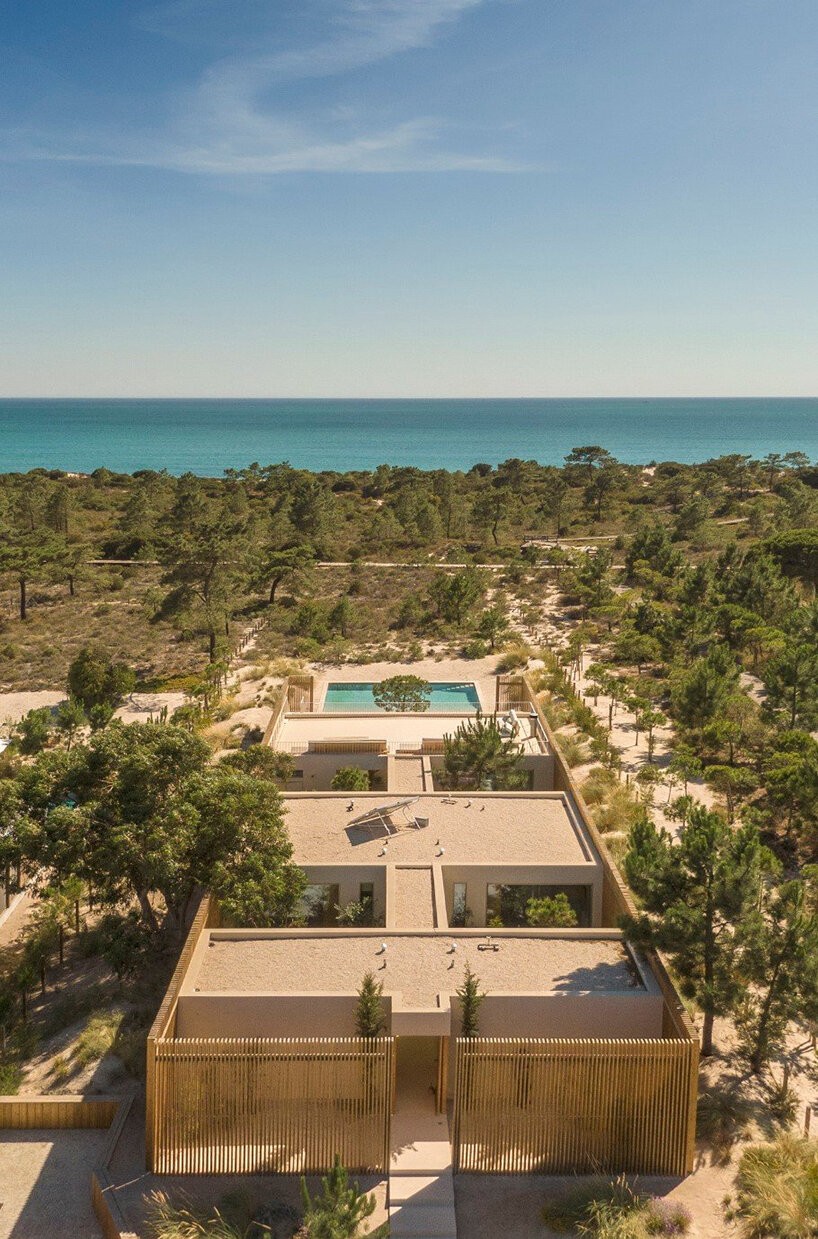 'Casa Em Tróia' ​​overlooks the sea of ​​Grândola, Portugal
Structurally, Casa Em Tróia consists of a load-bearing steel structure and light steel frame clad with OSB panels and thermal insulation before the walls are finished with sand-based mortar. A similar finish was extended to the interior and applied to the floors, resulting in a harmonious whole with the surroundings.
In addition, the team chose travertine to include in the material palette, as it is the stone that most closely resembles the sandy context and walls. "This palette would not be complete without bringing the fir and ash woods for the outdoor and indoor furniture, thus helping to define a whole that establishes continuity with the landscape,' shares BICA Arquitectos.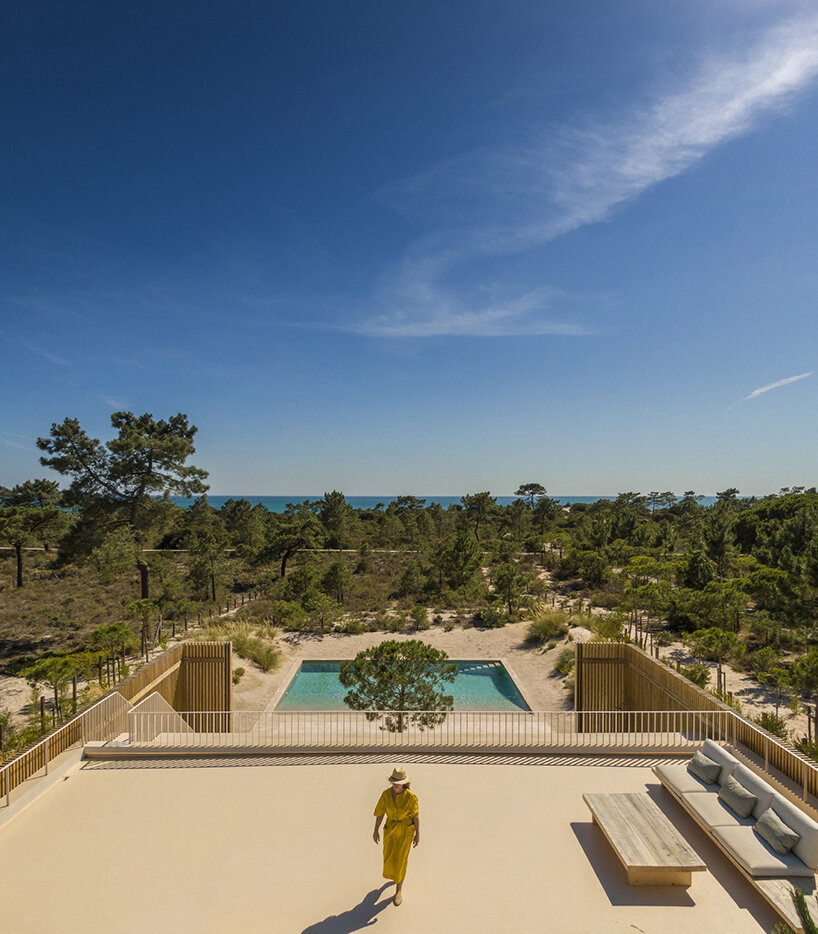 Reflection of the sandy coastal landscape