DRIVING THE HUMAN: A 3 DAY FESTIVAL FOR A 3 YEAR PROJECT
From 2020 to 2023 scientific and artistic collaboration drive people proposes and creates seven tangible prototypes that respond to our current planetary scenarios. This year saw the second gathering of this long journey, with a series of interactive installations, screenings, workshops and stimulating performances that enlivened the Silent Green cultural venue in Berlin.
last october, Driving the Human revealed 21 visions for an eco-social renewal that proposes new ways of interacting with each other and with what surrounds us. From these only seven were selected and presented in the former crematorium building in Berlin from 1900. Each visitor was invited and encouraged to curate their own experience exploring the connections between technology and nature. AI and circular economy as well as new production methods such as indigenous know-how and bacterial and interplanetary perspectives. After the growth of the projects and the development of the concepts, designboom took part in the three-day festival for the second time. The seven final prototypes will be materialized in a variety of ways, from walk-in room installations, designed objects and architectural models to interactive games, video works and performances.
Image ©Camille Blak | Driving The Human three-day festival at Silent Green in Berlin, 2022
Video ©designboom
Do AIs dream of climate chaos?
Do AI's Dream of Climate Chaos by Iris Qu 曲晓宇 examines the possible link between AI and the fields of climate change. With code as their primary medium, the Chinese artist, technologist and programmer explores a future where people, ecosystems and machines live in harmony.
Do AI's dream of climate chaos speculates about a future where algorithms make decisions based on their own existential needs. Machine learning infrastructures require many human and non-human factors to function, and such requirements could exceed human-implemented climate protection goals. In this project, speculative AI algorithms calculate competing priorities such as land use, energy, waste, and labor in a simulated ecosystem to optimize system longevity. The project aims to investigate the trend of machine learning supported solution finding and to question our tendency to optimize nature. "This year we present a simulation of the ecosystem. The idea here is to bring an AI into this super local space and the machine has to negotiate with all the living beings that inhabit it. explained Iris Qu.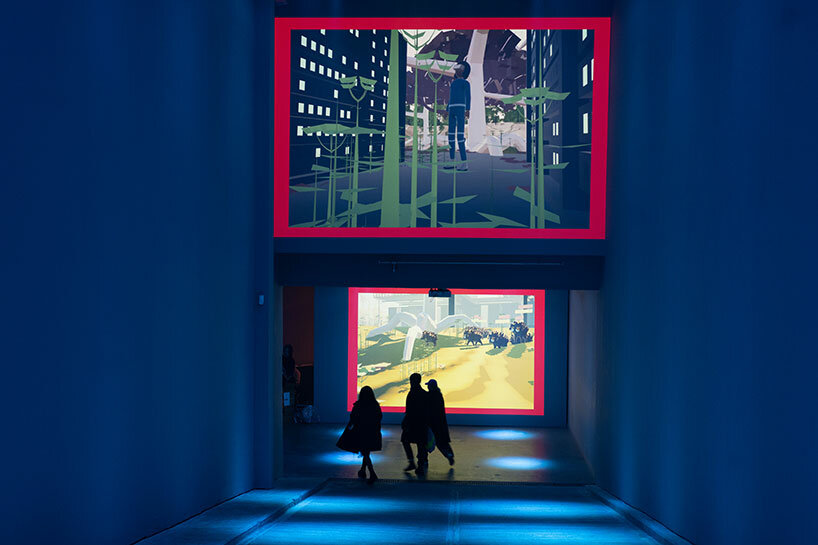 Image ©Camille Blak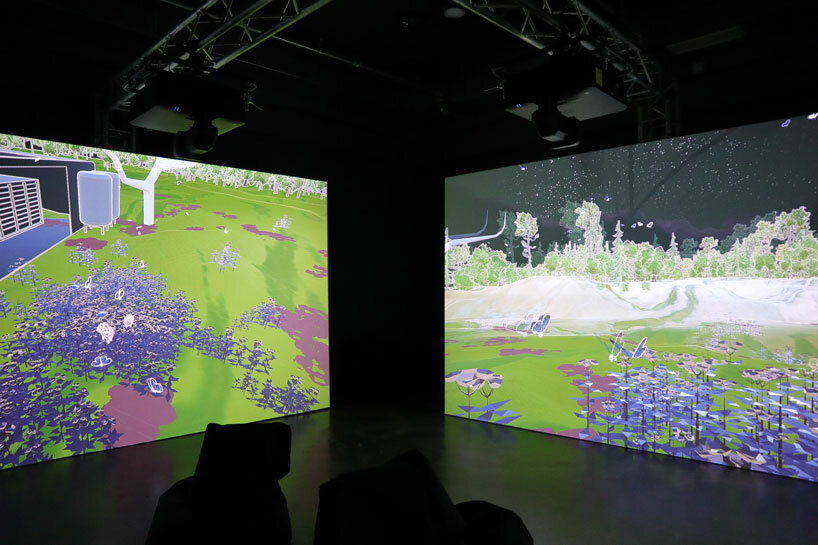 Image ©designboom
The Backpack of Wings: Modern Mythology
Hyeseon Jeong and Seongmin Yuk (see more here and here) set the lens on a migratory bird using GPS data and invite participants to tell an imaginary story.
The Backpack of Wings: Modern Mythology represents the speculative futures that are collisions and integrations between a bio-geo-tracking technology for wildlife in scientific fields and animism in the myth of seismic catastrophes in East Asia. Whenever a natural disaster strikes, people have always reported anecdotally that "animals knew beforehand," a belief that refers to animals as spiritual beings. As telemetry systems evolve, this animistic belief is translated into data through computation and analysis with biologization of the animal body; In addition, the animal behavior data enable the prediction of upcoming natural events. "Through 'The Backpack of Wings' we are interested in finding interfaces between animistic mythology storytelling and scientific research, such as with 'Project Icarus' where researchers attach GPS trackers to birds and use the data to predict natural disasters predict or even prevent the climate change,' told us the artist duo.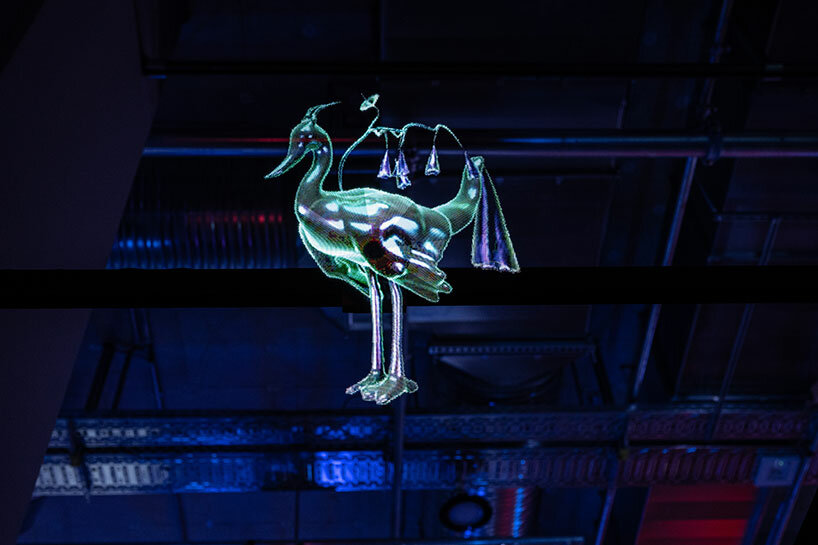 Image ©Camille Blak