First, check out the 35-acre riverfront Cuyahoga master plan
Real estate firm Bedrock, in partnership with the City of Cleveland and a world-renowned architect Sir David Adjaye, unveiled his comprehensive master plan for the Cuyahoga Riverfront. This $3.5 billion, 15- to 20-year vision will reinvent 35 acres of downtown Cleveland's Riverfront, transform Tower City Center and prioritize accessibility, equity, sustainability and resilience by developing an 18-hour, 15-minute city center.
'We're incredibly excited to present our interpretation of the groundbreaking work done in the city's vision for the valley. The ability to provide unparalleled access to the Cuyahoga Riverfront while connecting the area to downtown is realized through David Adjaye's bold strokes,' comments Kofi Bonner, CEO of Bedrock. 'David's vision not only encompasses the rich history of downtown Cleveland and its connection to nature, but also addresses the needs of a world-class city by utilizing sustainable infrastructure and emphasizing pedestrian and transit opportunities to large activated open spaces.'

View of the meandering Riverwalk from the Carter Bridge | all renderings © Adjaye Associates
Over the past few months, Adjaye has spent time in Cleveland creating a multi-faceted, forward-thinking design for the Cuyahoga Riverfront. The site includes over 35 acres of public and private land prepared for approximately 325,161 sqm of redevelopment and adaptive reuse. This includes 2,000 residential units, approximately 800,000 sq ft of office space, new parking, more than 12 acres of public space and hospitality services, retail and entertainment facilities.
'Our downtown Cleveland Riverfront redevelopment strategy capitalizes on the city's lost heritage and creates a new relationship between downtown and the waterfront,' the architect shares. 'As I delved deeper, the need to build a more moderate flow of movement through the city became immensely clear.'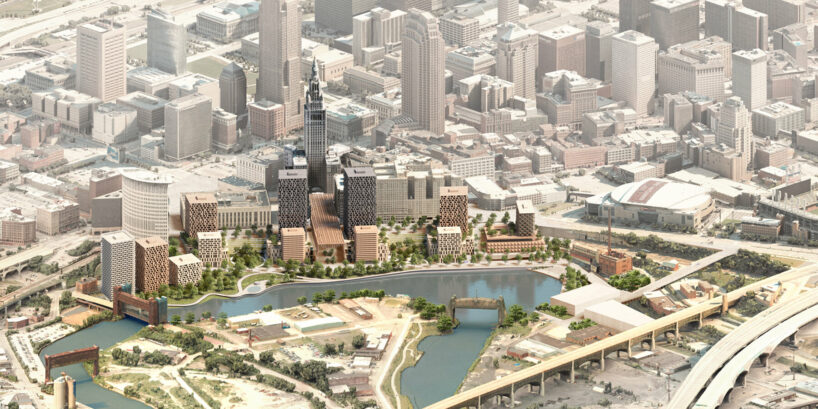 Axonometric view of the master plan
Connect shore to core
A landmark move connects Public Square to the riverfront by creating a new marketplace in Tower City Center. Conceived as an activated and connecting hub, this central backbone will enhance daily commuter experiences and stimulate opportunities for commerce and connections, mirroring boulevards and covered markets worldwide. 'We will layer the inclined site through usage and activation layers, moving from the commercial and transactional function to the more public waterfront recreational uses.' Adjaye continues. Over the coming years, Tower City will be updated internally and structurally to maximize the flow, remove obstacles on the Huron Road, and shrink towards the riverfront. For now, it remains home to a mix of retail, dining and programming.
With a focus on mobility, the Bedrock team will work with the Greater Cleveland Regional Transit Authority (GCRTA) and select civil society partners to explore plans for an advanced mobility hub consisting of a multi-modal path, stronger rail-bus connection points, and improved ADA access. Complementing the existing high-traffic Tower City and Public Square stations, the hub could include a new Prospect Plaza, Huron Plaza, a superior Ontario bus station and bus facility, all serving the Central Business District, Riverfront and surrounding neighborhoods.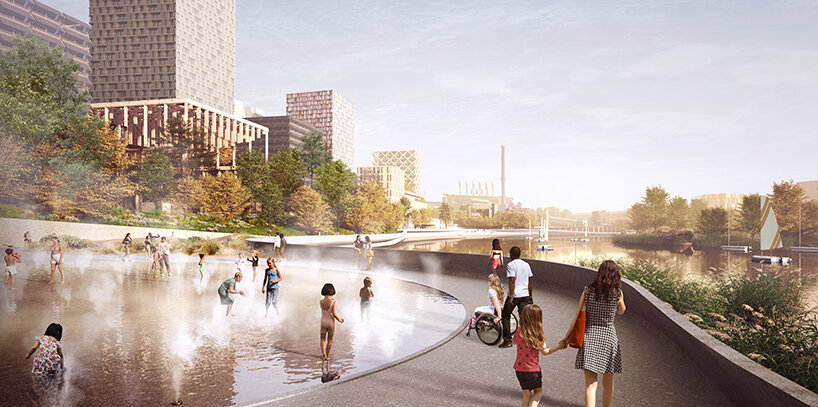 East view towards Tower City: new river promenade with landscaped water feature
The west side of the Cuyahoga Riverfront development campus is interwoven by accessible green spaces that leverage the Forest City legacy as a link to the Cuyahoga Valley National Park system. Structured, cultivated and curated paths promote walkability, accessibility and fair spaces. This new neighborhood will include office and retail space near Huron Road and the transition to smaller apartment blocks closer to a new Canal Road. East of Tower City, the Adjaye plan introduces enclaves of recreation, gathering and culture, including an amphitheater and other activities for all interests and ages.
At the end of the bend, a waterside vantage point gives way to a neighborhood park with public green space and landscaping. As the key components of the master plan evolve, collaboration with public, private, and not-for-profit stakeholders will remain critical.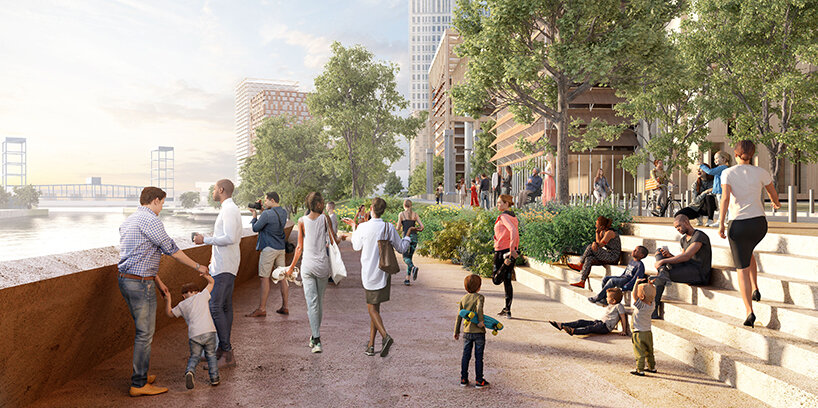 tiered seating adorns the Riverwalk
Sustainability meets social impact
Looking ahead, the Cuyahoga Riverfront master plan will leverage the most advanced sustainable practices to ensure it is at the forefront of smart city development. These include new estuaries and irrigation options critical to vibrant public parks, trees and vegetation, green roofs, permeable paving, and stormwater treatment to improve water efficiency throughout the area. In addition, the team will pursue LEED certification standards and the conscious use of environmentally friendly materials such as solid wood. In addition, charging stations for electric vehicles and the use of remote energy systems will help improve efficiency and reduce the impact on the regional grid infrastructure.
A master plan that contributes to a city center and is accessible to all through multimodal transportation is at the forefront of Bedrock's Cuyahoga Riverfront master plan. Bedrock has enlisted the expertise and experience of Cleveland's Osborn Engineering and MKSK as consultants to strategize and ultimately assist in the execution of phases of the Cuyahoga Riverfront Master Plan. 'We are happy […] to better refine this plan and define appropriate community benefits. We intend to engage key community, private and not-for-profit partners to create and deliver a vibrant, accessible riverfront community for the city of Cleveland.' concludes Kofi Bonner.