Everyone finds their way into art in different ways, for Bear Walker it was a culmination of many of his "accidental passions". By that he means his love for skateboarding, pop art and culture and his training as a carpenter. Walker makes collectible skateboards, handcrafted and good enough to hang on gallery walls and grind rails. This is very modern pop art for a modern audience.
Today, Walker is famous for crafting artistic skateboards that are carved from wood before being spray painted, etched, engraved and singed depending on the design. As we talk, behind the artist is a wall patterned with his skateboards, one with tactile fish scales and the other with a retro Spider-Man. Skateboard art has a long history and we've already highlighted some of our favorite skateboard graphics, but Walker's Boards Are his art.
Walker's latest project is a series of officially licensed, limited edition Pokémon skateboards to collect. These specially designed Pichu, Pikachu, and Raichu special edition deck designs are available now in the US and for the first time in the UK at the Pokémon Center. "The fans are crazy about Raichu," Walker tells me excitedly.
Bear Walker is inspired
After studying graphic design at college, Walker took a job making custom signage and props, and during one of those projects he was inspired to adapt the techniques and tools to something more personal. "So I carved the first skateboard just for myself," he recalls. "Then people started asking where I got it from, so they started taking orders from customers, and that's been 11 years now. It's just kind of a snowball."
The design process is very personal to Walker, perhaps even more so when creating some of his collaborations with famous brands like Marvel and Teenage Mutant Ninja Turtles. He explains how he remembers what he would have wished for as a child and how he set out to create that vision. There's a direct line from Walker's childhood to his art, and it's one that resonates with millennials.
"I always design stuff for the '90s kids that gives you that nostalgia, that sense of something you were excited about as a kid. But now you have a bit more money to buy something for your personal collection," says Walker.
He laughs as we discuss how '90s design nostalgia is one of the biggest trends of recent times, and says, "It all sort of worked out […] It just so happened that when I started making these high-end boards, skateboards started to become more popular for pop culture and decoration."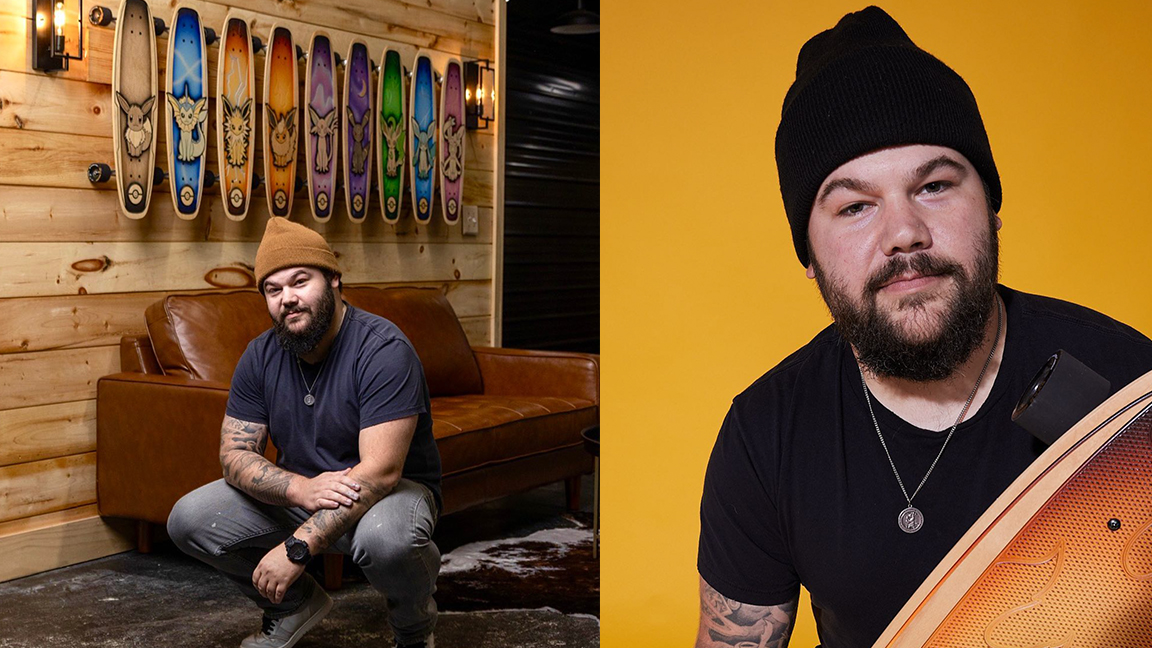 Walker only makes 25 custom boards each year and has a two-year waiting list. So it's no wonder that the artist has his party-mad fans; he can name actor Jason Momoa, 'Shazam!' Star Zachary Levi and Billie Eilish as owners of his custom boards. But he keeps that sense of authenticity in his creations, telling me that his limited-edition skateboards are made in pairs, "one to ride and one to wall."
The idea that people who collect his boards as works of art came as a surprise. "When I first started, I made these things to ride," he says, explaining that they're "super durable." He spent time perfecting the boards' grip and even started his own truck and wheel company to make sure the wheels matched the board perfectly.
"After the first few years, when nobody drove them and everyone hung them on the wall, I was almost offended," he admits. "Then it occurred to me that that's really good, people like them so much they don't want to ruin them."
There is art in wear and tear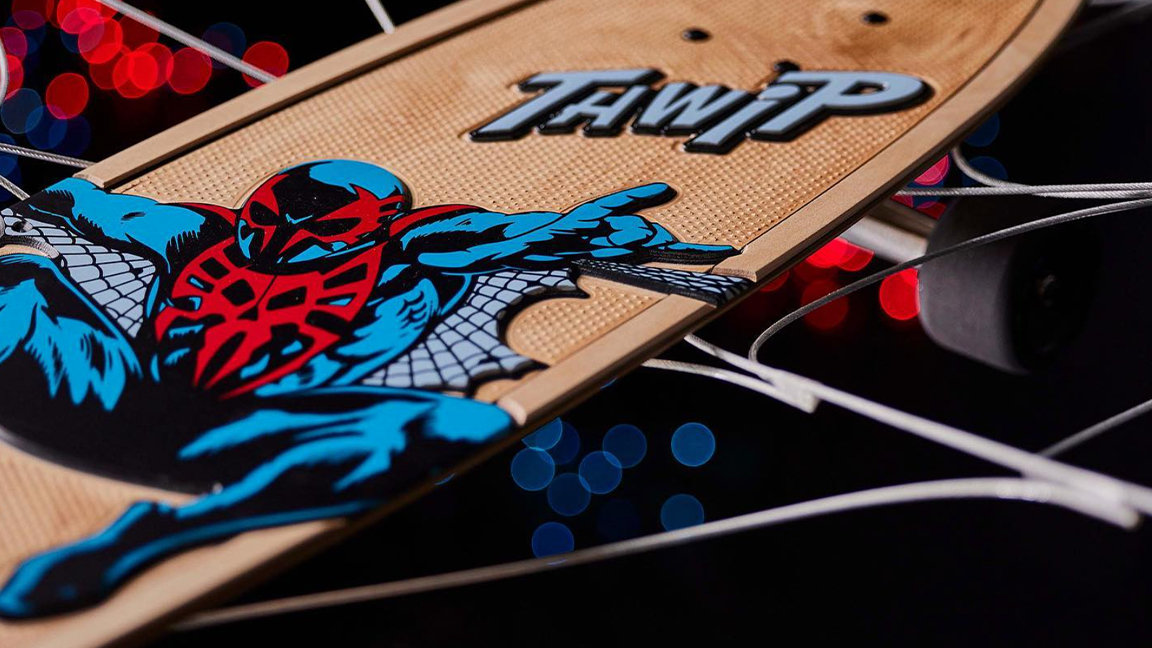 It's the scratched and scratched editions that Walker has a penchant for. He designs his boards to be beaten. Every scuff and scratch contributes to the design. "It's a complicated process," he admits, "because I strategically place it exactly where I want texture […] I need to think about where your feet are on this design and where I need to add more texture where I can have a flat area where I want to put darker colors instead of lighter colors.
The creative process starts with pencil and paper, Walker also uses Procreate on an iPad and has started teaching himself ZBrush. His designs need to be thought through in three dimensions as they are carved from wood and care is taken to ensure texture and detail harmonize. Each board is hand painted and gradients are airbrushed.
Walker now uses CNC routers, large mechanized woodworking machines, to carve his boards. These are similar to the newer laser cutters that you can buy for your home. He also lends a hand himself and creates the 20 or so prototypes for each board design. His Miami workshop and gallery has a space filled with over 200 boards that never made it. "When you open the door, it looks like a bloody Harry Potter library archive," he laughs.
Interestingly, Walker's designs are designed to wear down, with the climbs getting deeper and richer as a rider's feet drag across the board. "Actually, it should look cooler as it ages," laughs the artist. "If you wear it down, it'll almost have that ombré effect where you just add the gradient when you wear it down."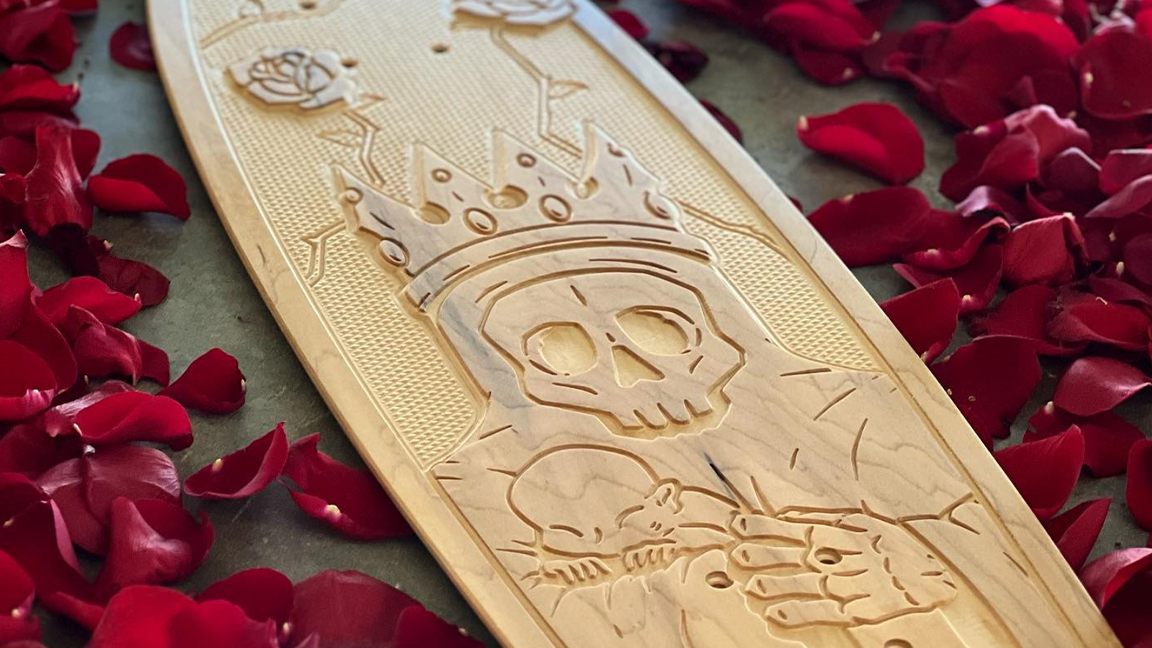 Walker's work crosses between traditional pop art and a modern structural, sculptural approach. "I'm always trying to find a way to play with your eye or play with your senses by making different textures and having different pops of color and white spots," he says, explaining how surfing as a kid and love of skateboarding influenced his craft. but he "really pays [his] with pop culture and the art world and crafts and woodworking […] I'll tell more of my story there."
Pop culture, collectible value and art have always belonged together, and in 2023 it feels like art is easier to discover, own and desire than ever before. "I feel like we're in a new renaissance era for things like this," Walker comments. "We've gotten to that point, I feel like it was the early 2000s when mass production and convenience were oversaturated, and I think in the last five or 10 years, more bespoke, handcrafted things have been more appreciated."
Now the 90's generation of kids has grown up and is looking for art and collectibles of their own that will remind them of their childhood in unique and creative ways. "Nostalgia makes people spend part of their money on things that remind them of their childhood," says Walker, and he's right: according to one report, "kidults" are responsible for a quarter of all toy sales each year (opens in new tab).
Walker says his collectors are looking for something that reminds them of their childhood in a unique way. For him, it's the "little imperfections" that make the difference.
A DIY attitude
As we chat, it's hard not to be drawn in by Walker's contagious passion for his art, and he mentions that everything he does is self-taught; "I couldn't airbrush, so I taught myself," he says, "I learn ZBrush from YouTube, when I bought my first CNC machine I had to learn CAD programming," he adds.
There's an excitement in Walker's voice as he talks about how he got started and where he is now, and there's no sign that he's going to let up. He also points out that now is the best time to be creative. Whether it's software like Procreate, technology like Glowforge, or the ability to set up a shop and sell your art online, Walker sees no reason why artists shouldn't be successful.
"There's so much creative potential now and so much really good technology that you can use to create these things that, yeah, it's really only limited by your imagination," enthuses the artist. "And yes, it's a crazy time to be a creator."
Continue reading: