a house floating between the trees
Emerging from the woods outside Cordoba, Argentina, this "LS House" takes shape with the architecture of the Spanish studio SAZ Arquitectos. The surrounding area is overgrown with natural vegetation and is punctuated by a calm river. Within this scenic location, the architecture is conceived as a collection of "pure volumes" arranged around sunlit courtyards to create a private oasis surrounded by nature. As the design team puts it, the House seeks a "balance between the interior space and the presence of the natural environment".
'I walk through the landscape where green and sunlight invade me,' says the architect. 'I rest in the trees, lulled by the sound of the water.'
Pictures © Gonzalo Viramonte | @gonzaloviramonte
a mixture of concrete and wood
SAZ Arquitectos places the entrance to its "LS House" along its sun-drenched southern facade, which is wrapped in a shell of vertical wooden slats. With this "blind" wooden facade, the interior spaces are protected from the noise of the street, while the warmth of the material counteracts the coolness of the otherwise stone house. Two courtyards in the center of the house open the interiors to sunny gardens that invite light and natural breezes inside.
The architects Organize the living spaces of the house on one side of the axis formed by these courtyards, this gathering space expressed as a continuous concrete gallery. On the other side of the axis, the bedrooms are combined into a single volume that rises off the ground – pristine land runs beneath this light volume and down to a river below. Meanwhile, a balcony off the master bedroom is elevated among the trees.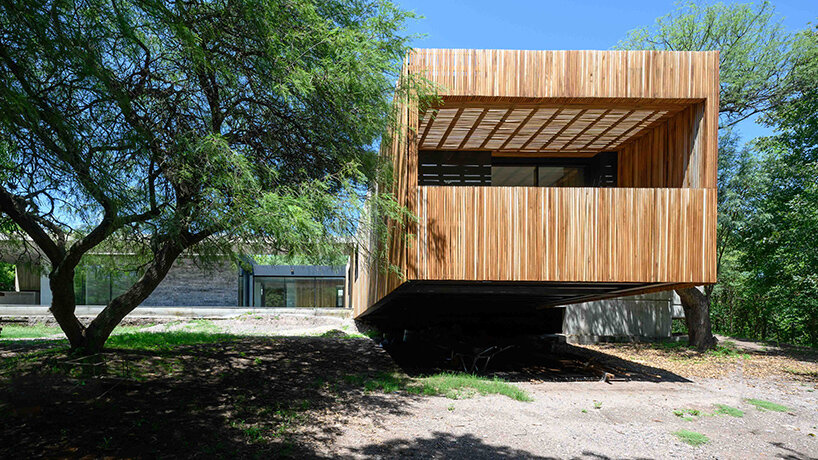 natural sunlight as a dynamic interior designer
SAZ Arquitectos designs its LS house with geometric precision, enhanced by the natural light pouring in through its rhythmic openings. This light serves as a dramatic effect that changes the atmosphere of the interiors depending on the time of day. The visual connection of the interiors with the garden courtyards, patterned sunlight and shadowing transform the minimalist architecture into a dynamic experience.
The design team continues: 'The design of the built environment, the relationships between objects and their built and natural surroundings, territorial coherence, scale and materiality are factors that directly affect our quality of life.'