A Florida motorcyclist is facing multiple charges after running a red light and knocking out seconds before the T-bone of an oncoming truck while fleeing local police.
"Here's a good way to get yourself killed," the Volusia County Sheriff's Office wrote in a Facebook post.
The three-minute video shared by police shows Deputy Bissonnete's attempt to stop a group of motorcyclists who were "popping wheels" late on Friday, March 3 in a high-speed chase.
Dashcam footage shows the group of motorcyclists weaving recklessly between cars at high speed. When the group approached a red light, they ignored it and continued to flee from the deputies.
Florida police crack down on partygoers over spring break: 'We want them to behave'
One of the motorcyclists, Joshua Richardson, looked back and knocked police over with the bird before continuing into the intersection – right into the lane of an oncoming truck.
Richardson miraculously survived the crash and briefly attempted to run on foot before being arrested by police.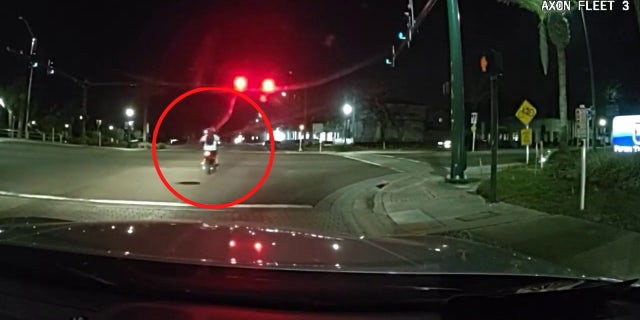 In body camera footage released by the Volusia County Sheriff's Office, Richardson can be seen squirming on the floor and telling deputies he's in a lot of pain.
"I'm hurt," Richardson is heard saying as he lies on the floor while the deputies handcuff him.
"Idiot," said one of the deputies.
"I know," Richardson replied.
MISSISSIPPI MALL SHOOTING AT LEAVES 2 INJURED: POLICE
After MPs handcuffed him, bodycam footage of Richardson can be heard complaining to police.
"Do you know how not to hurt your leg?" asked one of the deputies. "You don't run from the cops and crash your bike."
"Do you find that funny?" asked Richardson.
"No, I don't think that's funny. It's incredibly stupid," replied another MP.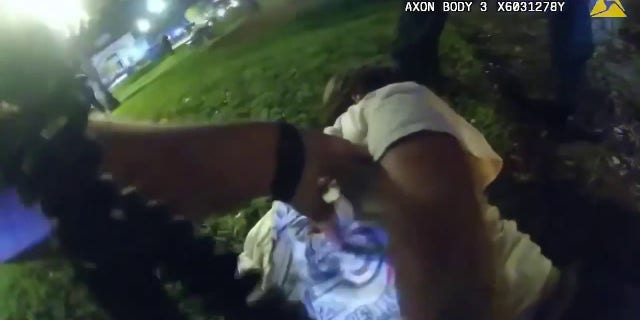 "We're being followed by 12 cops in the middle of nowhere. What should I do?" Richardson asked.
"Stop and find out why we're chasing you," MPs said.
Richardson was charged with fleeing or attempting to evade law enforcement, fighting back non-violently, and leaving the scene of the accident. He also receives traffic summonses for failing to stop at a red light and crossing an exclusion zone.
CLICK HERE TO GET THE FOX NEWS APP
The Volusia Sheriff's Office did not say if the truck driver or any of the passengers in the vehicle were injured, or if the other reckless motorcyclists were arrested.